Industrial sewing machines and equipment
Sewing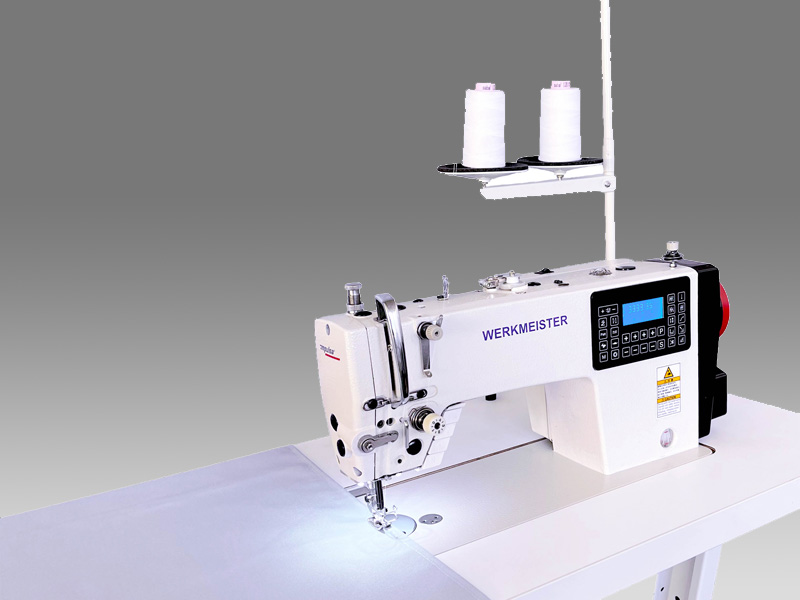 Home Textiles Catalogue (PDF 6,5Mb)
Industrial sewing machines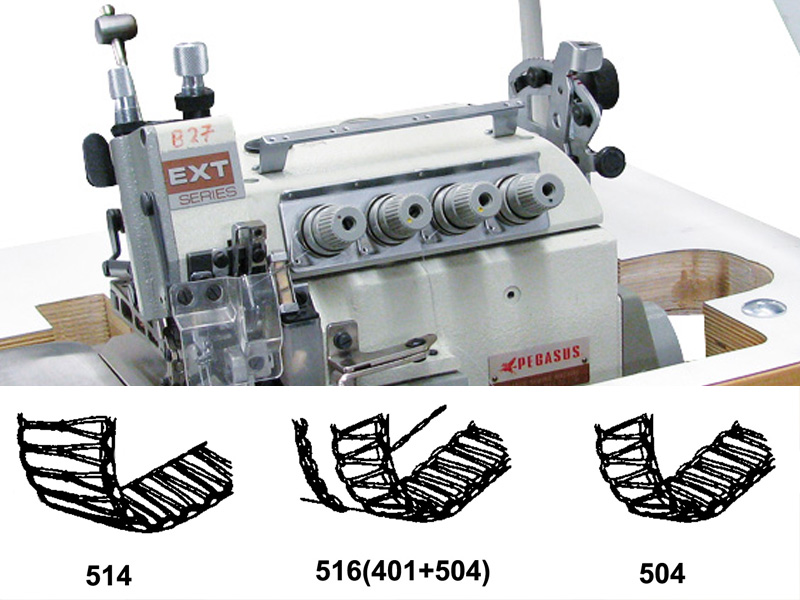 EXT Series
These series are also available with an additional differential top feed belt. These sewing heads are used, for example, in the NA 2100+ sewing units to sew even heavy fabrics cleanly and precisely at high speed.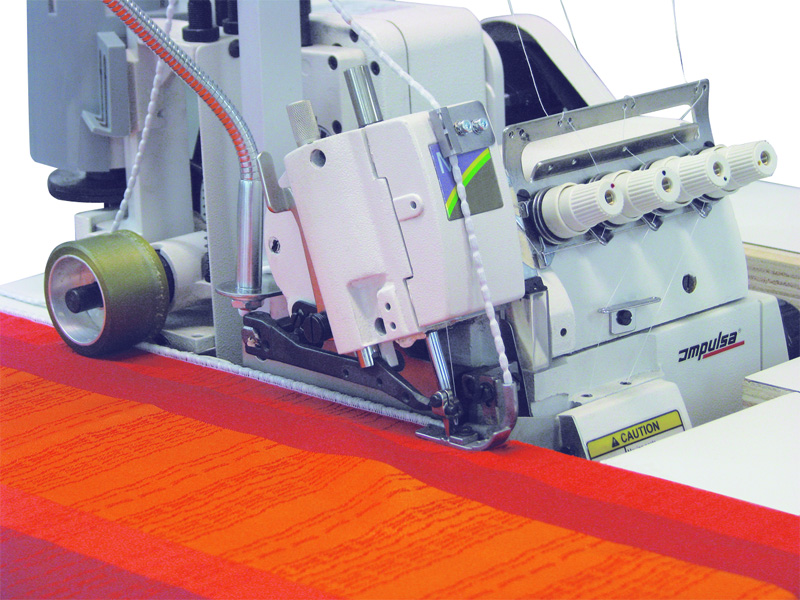 BORDER AND SEW ON LEAD TAPE
The sewing head with differentiated bottom feed for the highest demands!
Completely equipped with:
LED light, special presser foot, lead tape guide and lead tape unwinding stand. Here, the fabric is automatically placed around the lead tape during sewing and linked off.
Ideal workplace design for tape sewing on.
Send us your tape samples, state roll diameter and width, so that we can configure the right machine set-up for you.
Mobile frame, making it much easier to clean the area under the sewing machine.
Excellent price/performance ratio.
High productivity.
Thread trimmer up to needle distance of 25.4 mm and 45 mm.
Automatic backtacking.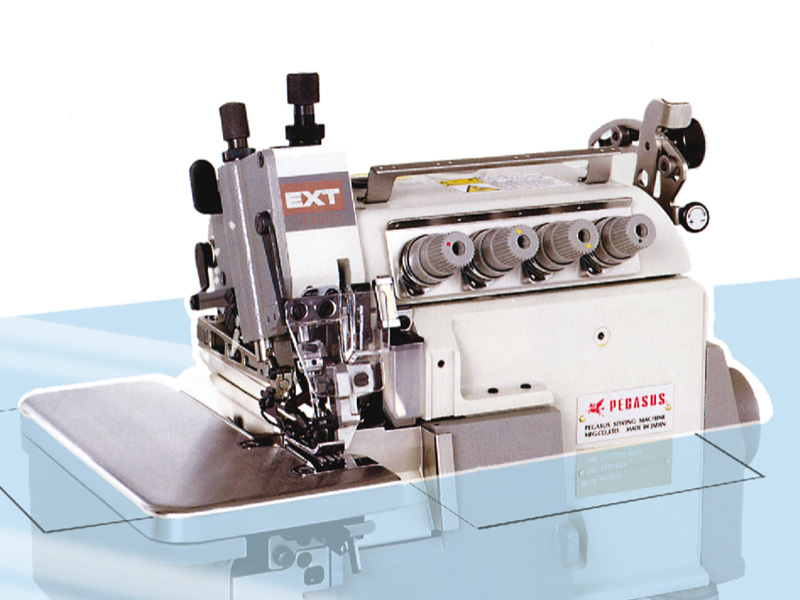 Sew the panels together
This is done with a 2-needle, 5-thread machine with additional safety seam (stitch pattern 516) or 2-needle, 4-thread machine for an elastic stitch pattern 514.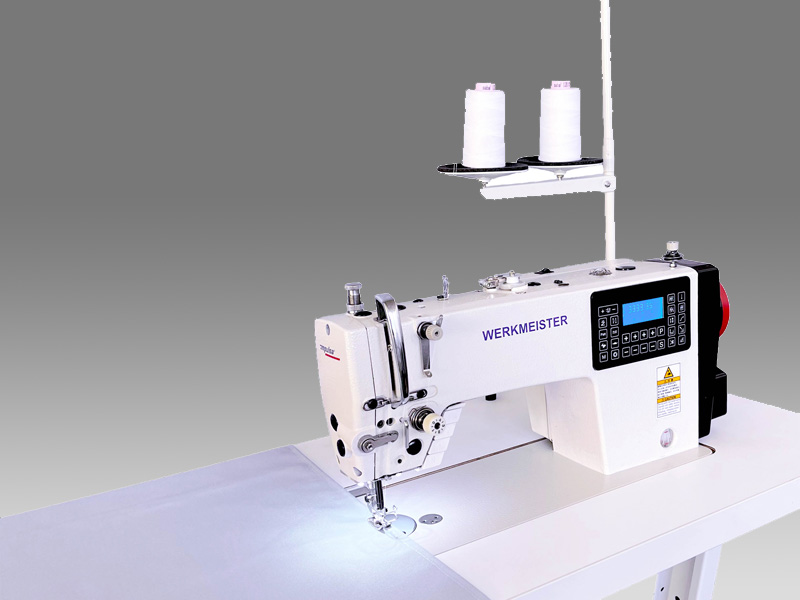 Hem sewing machines and bottom hem sewing
This double quilting table quick stitcher is the latest development for long seams.
Blindstich
Lockstitch and blindstitch are two completely different types of stitches. Blindstitch is based on the chainstitch principle and has different stitch lengths and thread tensions. Therefore, different speeds must be used.
In this way, the Synchromatic achieves a maximum of flexibility and this is precisely what is required!
Until now, the impression was that many processors and manufacturers avoided the blindstitch area because they feared more processing problems than in the
lockstitch process.
However, a blindstitched seam looks high quality and with it you can stand out from the competition. With our Synchromatic you can do this very easily and at a higher sewing speed than with lockstitch.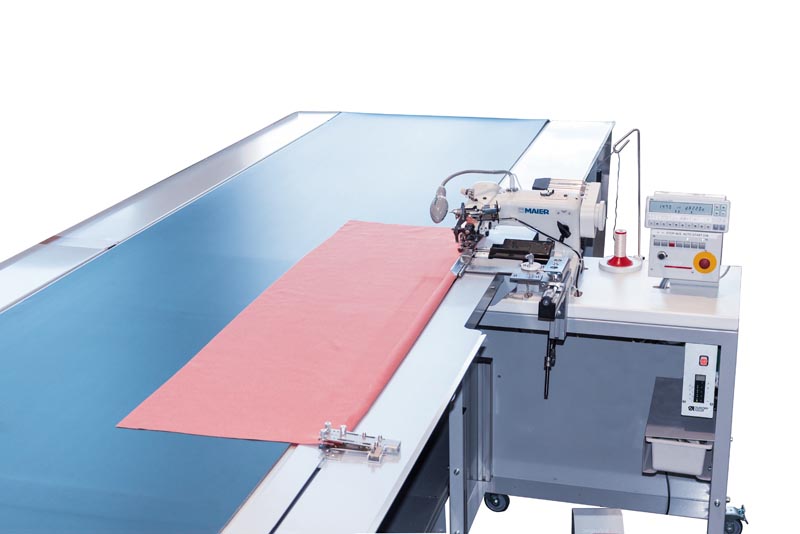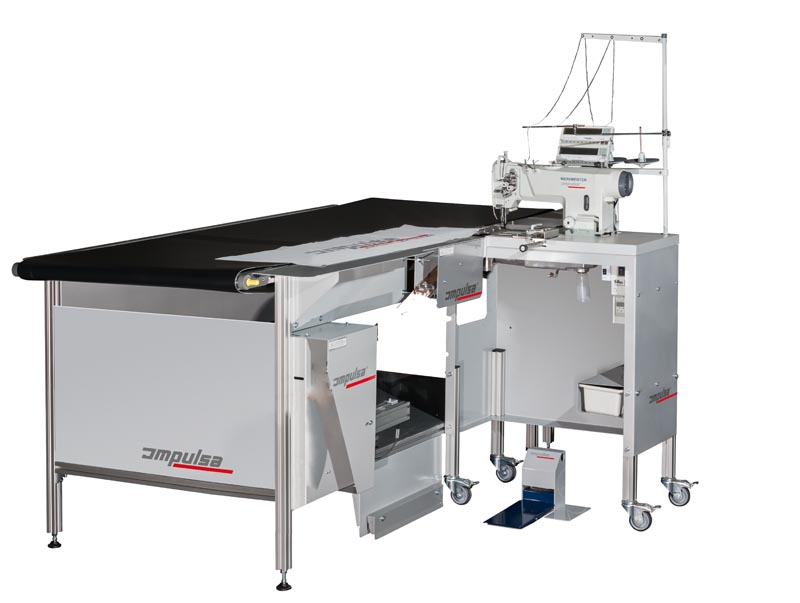 SYNCROMATIC Automatic sewing machine
If you previously thought sewing units were too big or too expensive, we have the alternative at a small price too! With this sewing machine, long seams are produced in one sewing process from the hand and without interruption with a very good sewing result. The sewing speed is synchronised with the conveyor belt that feeds the fabric. The constant thread tension gives perfect hems.
IMPULSA – Pioneer of synchronous sewing technology.
Conveyor belts that transport the sewing material synchronously through the sewing head, from 1 m – 20 m in length!
With or without flat welt trimming
Or with the new patent-pending, automatic flat welt trimming ATAS during sewing!
Or as Synchromatic Eco Coverlock
No more fraying with modern textile print materials! Coverlock.
Created to enable automatic sewing.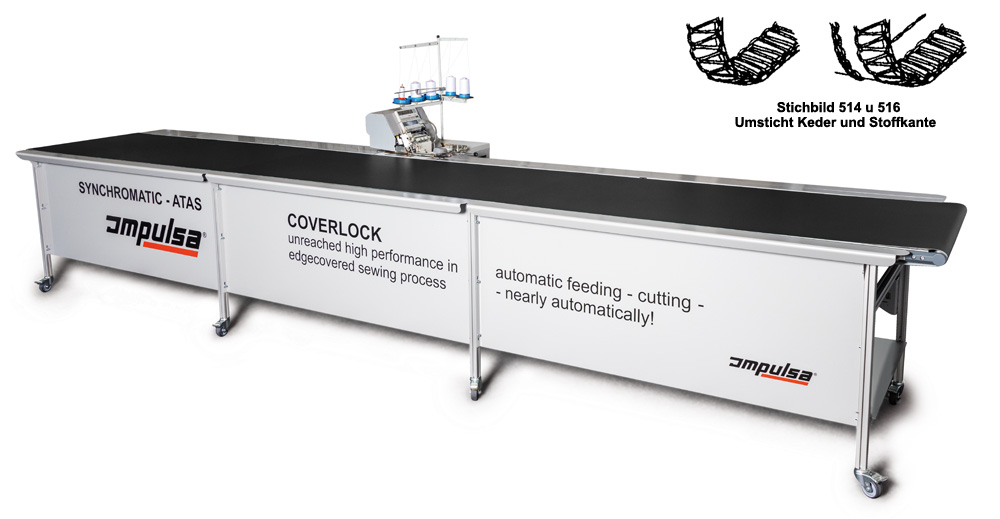 No more fraying with modern textile print materials! Coverlock.
Created to enable automatic sewing.
With the new SYNCHROMATIC SAM we are presenting the new machine generation for
autonomous sewing. Now on machines with lockstitch like Coverlock.
Simply place the material to be sewn on the tape.
Easily insert it into the sewing tool, e.g. to sew piping.
Start the kick pedal – unique only to Impulsa.
SAM guides the material and starts continuous sewing.
Modern materials tend to fray with conventional welting processing.
With the new SYNCHROMATIC COVERLOCK SAM we have solved this problem once and for all.
We present: The new Coverlock SAM machine generation sews autonomously right up to the
thread trimming at the end of the material.
The unique Coverlock zigzag seam encloses the sewn-in welt.
The result: a neatly sewn-in welt so that your print can be effortlessly inserted into the frame.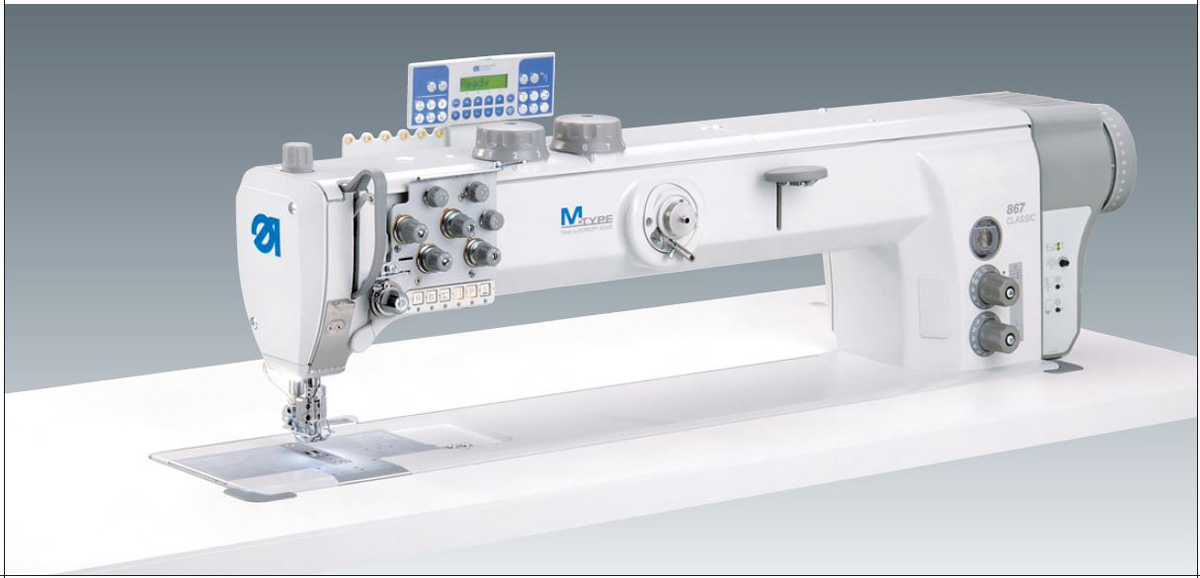 3-fold transport double quilt table long arm
For sewing units of large-area, voluminous workpieces.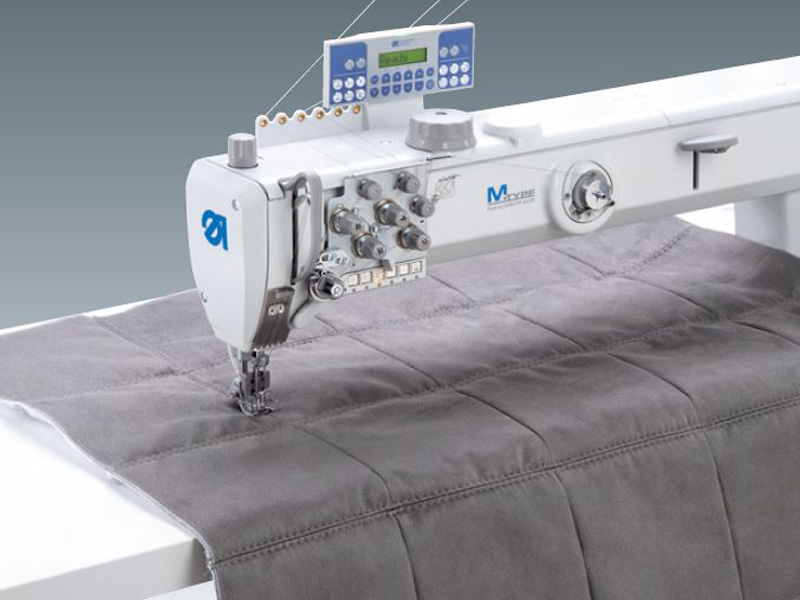 Upholstery sewing machine
Sewing device E724/12 for topstitching large, voluminous upholstery parts.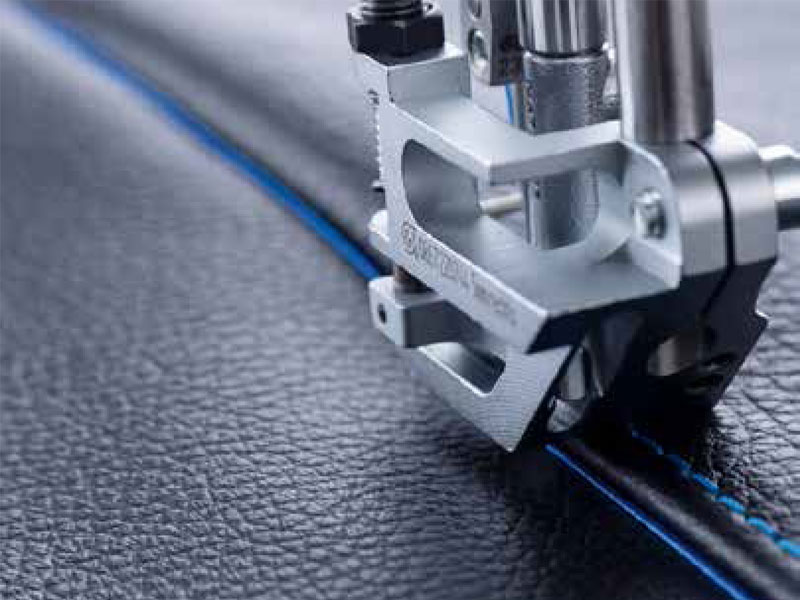 Leather sewing machine
1- or 2-needle machine
Thread trimmer
Automatic backtacking
Automatic quick adjustment of thread tension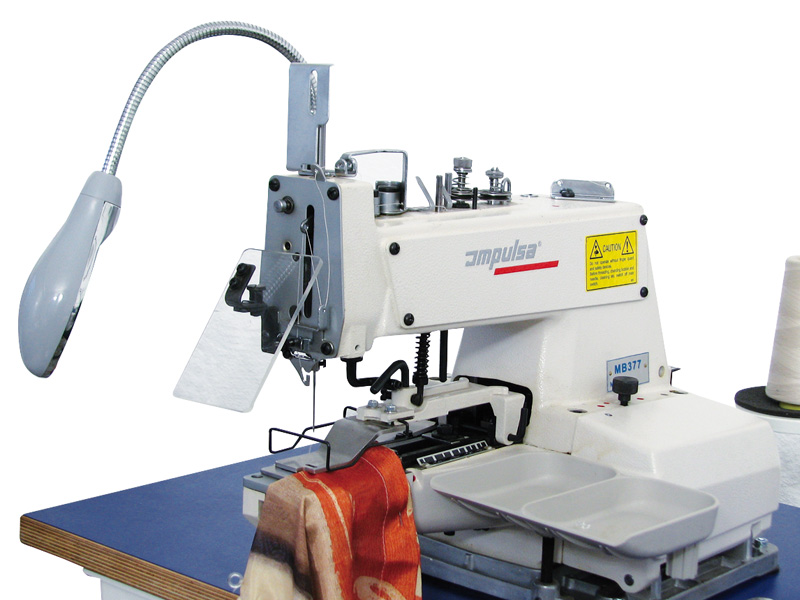 Ring sewing machine
Ideal chain stitch machine with a special LOCKKNOT method which practically knots the thread and thus ensures that the thread no longer unravels. Insert the ring, place the edge of the fabric against the guide, lift the device via a second foot pedal, press the pedal and the ring is sewn on, neatly, perfectly, easily and quickly.
Number of sewing stitches adjustable 8-16-32. Thread cutter, complete with table, frame – motor 230 V AC.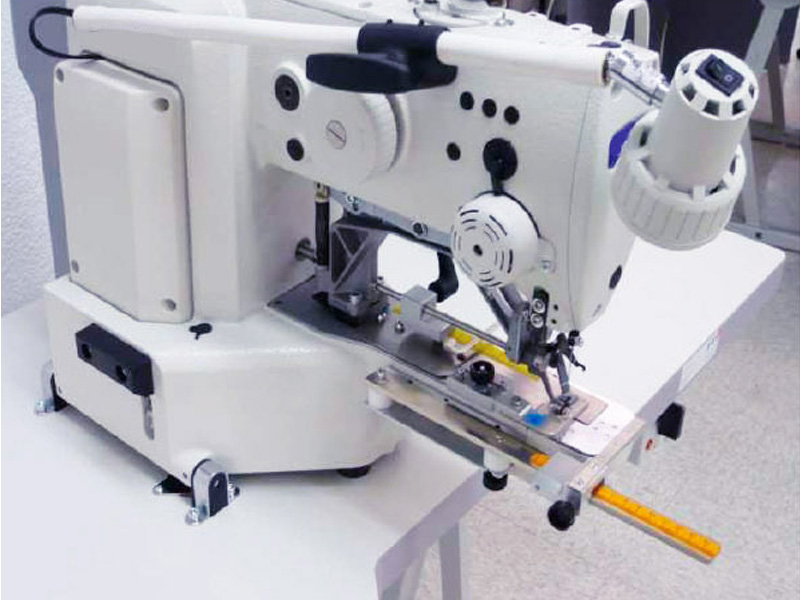 Glider sewing machine
Sewing workstation for the safe and fast processing of so-called "Swiss sliders".
Electronic lockstitch angle automat
Electromagnetic thread trimmer
Electromagnetic sewing foot lift
Including 1 glider holder
Presser foot swivels out for basting
Direct drive via servo motor, 230 V
Control panel
Resopal table top on height-adjustable frame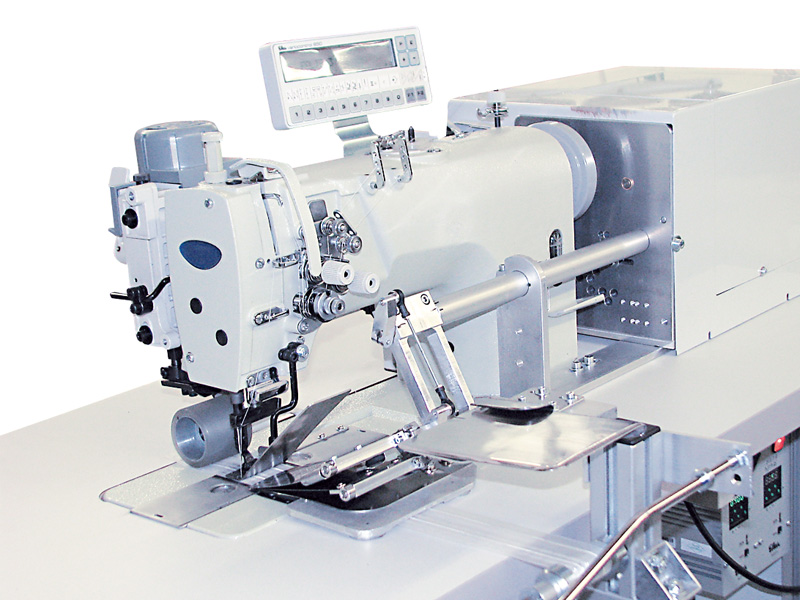 Pleated sewing machine
Newly developed double pleating machine
Single fold
Double pleats
You can sew ribbons under the pleats
You can directly fold the top of the curtain and directly make pleats and sew on the tape
You can determine the depth of the pleats – double pleats are possible up to 100 mm
Smooth running and little vibration
And much more from our
Catalogue